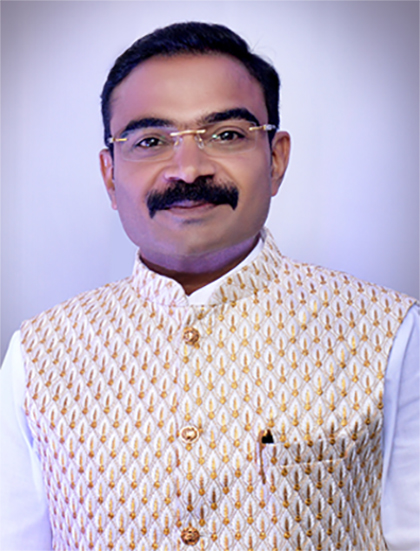 Dear Students,
Greetings and best wishes to all of you. I extend a very warm welcome to all the students aspiring to join our prestigious Institution It gives us immense pleasure to thank you for your right choice in selecting Council of Paramedical Science of India . It is my strong belief that education is a powerful driver of socio-economic change, a powerful instrument to transform the attitude, thinking and life style of the people and society. The dream to establish Council of Paramedical Science of India was seeded in the mind of the Chairman to impart world class education with the meaningful quality education to the students and other learners in India. I welcome and invite you to join hands with me to become the prime part of Council of Paramedical Science of India. Students are the touchstones of our university and are at the core of my vision and mission. You have landed up at a right destination for establishing your career. Chairman's vision is to impart various Distance / Regular / Courses to the students of economically different backgrounds. Due to this efforts Regular/ Distance Education is becoming more and more prominent all over India and more instructors and students are becoming involved in both the Educational aspects of Regular / Distance education. As council current research, India requires more than 50 lakh paramedics to cater to the increasing need in the healthcare sector. Currently, there is a dearth of such trained professionals, which can only be compensated with increased world – class training and education in paramedical sciences. It is a highly rewarding career option with plenty benefits.
These paramedical courses are pointing towards a revolutionary changes. These courses have provided job opportunities in medical field in India. Paramedical science is emerging as a multi-dimensional branch of science which is full filled with great opportunities. As paramedical is only capable of removing & diagnosing different diseases, it has given way to career opportunities and played an important role in improving the health conditions of people. Paramedics are the key players in the Health & Medical Sector. Without paramedics, the entire Health Industry is out of gear and is almost non-functionary. If there are no Paramedics, there is neither money nor any profit for doctors, hospitals, private clinics, etc. There is an increasing realization on the importance of paramedical personnel in the health sector, especially in accident and trauma care. Paramedics are a boon to nursing homes and the dreams for students, who have not been able to become full-fledged medical professionals. Health care delivery systems are undergoing rapid changes and the demand for skilled paramedical personnel is on the rise. Almost all the diagnostic procedures are carried out by the paramedical staff and they have emerged a vital cog in the wheel of the health care delivery system
COUNCIL OF PARAMEDICAL SCIENCE OF INDIA autonomous organization aim is to become a role model in Distance/ Regular education and to be globally recognized. COUNCIL OF PARAMEDICAL OF INDIA wants to establish relationships with renowned Indian Board/ Universities/ Foreign Universities and facilities mutual exchange programmers. COUNCIL OF PARAMEDICAL OF INDIA has established itself as a Leader among the Paramedical Institution in Maharashtra & India offering almost all the Allied health Diploma, Post Graduate Diploma taught in various parts of the World. Today Council of Paramedical Science of India looks down with pride from the height of success. Our association has been providing Educational and Training of consistently high standards through innovative and versatile programs that are responsible to the current and the emerging needs of the community. Our institute will continue to raise more and higher in the academic world. Our Organization is continuously and consistently engaged in imparting quality education to meet the skillful requirement in the technical and professional field. our whole faculty is committed to improve the effectiveness of our courses in the light of latest equipments technologies and association with intellectual, organization in the field of allied health science.We value innovation, integrity, commitment and team spirit in the pursuit of excellence at Council of Paramedical Science of India. We love to build people and empower them to reach their full potential.